Eye care professionals specialize in understanding how the human eye really works, as well as diseases and conditions that affect your vision – many of which do not have obvious symptoms. Eye doctors know how age and risk factors affect vision over time for young and old, and they understand the benefits and features of corrective lenses including eyeglasses and contacts.
Our optometrists take the time to explain the results of your eye exam, describe your options and listen to your eye care needs. Because maintaining good eye health is an ongoing partnership, we encourage you to ask questions and share your health information, which could be vital to monitoring, diagnosing and treating potential vision problems.
Meet Our Doctors: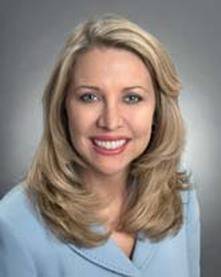 Optometrist
EDUCATION:
Dr. Goodnight received her Bachelor in Science degree in Biochemistry from North Carolina State University in Raleigh, graduating in the Dean's list in 1985.In May 1989, Dr. Goodnight graduated from the University of Houston College of Optometry. She had an externship in Atlanta, GA from the Omni Eye Center.
This is a secondary care facility, providing vast experience in pathology and patient care.
COMMUNITY:
Dr. Goodnight has a home in the Sugar Land area since 1991.She has been in private practice in Sugar Land and Houston, Texas for over fifteen years. She is involved in the community in her church and volunteer organizations such as STARS and Fort Bend Junior Service League.
PROFESSIONAL: She is a part of the National Boards of Optometry as a proctor, since 1994. Thus, ensuring new Optometry candidates meet the stringent criteria in the 3 day practical portion of the exam required to be licensed. She is a member of Texas Optometry Association and Harris County Optometry Association.
Dr. Goodnight's interests are comprehensive primary care including binocular vision, difficult contact lens fits- including keratoconus fits, dry eyes, eye diseases, ocular infections, foreign body removals, diabetic retinal exams, glaucoma management, pre-op and post-op Cataract and Lasik managements. It has been said that Dr. Goodnight is tri-lingual…English, Spanish and Engineer! She and her staff strive to maintain the consistent detail-awareness needed to support this claim.
Optometrist
Dr. Idiculla was born and raised in Ft. Lauderdale, Florida. He graduated from the University of Florida with a Bachelor of Arts in Business Administration with a specialization in Microbiology and Cell Science. While at UF, he held leadership positions in his fraternity and various cultural organizations. Go Gators!
After undergrad, Dr. Idiculla attended the University of Houston College of Optometry and earned his Doctorate of Optometry degree. He graduated as a member of Beta Sigma Kappa Optometric Honor Society. He is a licensed Therapeutic Optometrist and Optometric Glaucoma Specialist in Texas. He did his externship training at Eyecare of Greenville in Greenville, TX and the Robert Cizik Eye Clinic at Memorial Hermann Hospital in the Texas Medical Center. He also worked as an Ophthalmic Technician at a local Ophthalmology practice in Houston during his years in school.
These experiences helped give him a well-rounded knowledge of various pathologies of the eye such as: refractive correction including glasses and contacts, LASIK and cataract evaluations, red eyes and eye infections, eye injuries including foreign body removal, dry eye, glaucoma, diabetic eye exams, macular degeneration, pediatric eye exams and more.
Dr. Idiculla is a member of the Harris County Optometric Society, Texas Optometric Association and the American Optometric Association. He keeps up with the latest advancements in vision care through continuing education classes and reading the latest published literature. When not working, Dr. Idiculla enjoys spending time with his wife and dog, meeting up with friends, playing and watching sports, and traveling back to Florida and around the country to visit family.
Dr. Somaira Zia is a leading Optometrist licensed by the State of Texas in Therapeutic Optometry with special interests in Primary Care, Contact Lenses and Ocular disease such as diabetic retinopathy and macular degeneration. Dr. Zia completed her Bachelor of Arts in Economics with a minor in Business and Biology from University of Texas in Austin and graduated from one of the most pristine doctorate programs in Optometry, University of Houston College of Optometry.
Dr. Zia practices full-scope optometry with heavy volume of patients focused on comprehensive eye exam along with pre-op and post-op Lasik and Cataract management. She is a certified Glaucoma specialist and is experienced in providing superior patient care in heavy patient-load practices.
She currently resides in Sugar Land, TX and can often be found in neighborhood parks chasing her 4 year old daughter around along with her beautiful baby girl.